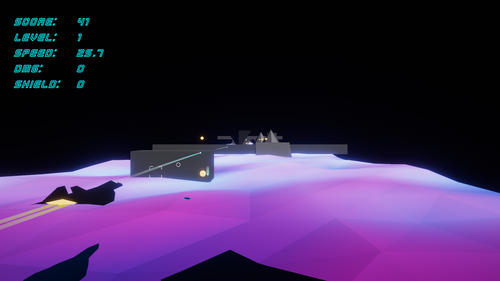 So today is day 1 of the ScoreSpace x 8 Bits to Infinity ~ Arcade Controls Jam I'm building this for. Already starting to panic on scope. Surprise surprise.
I'd been keen to actually get into this for the past week or so. I had the idea about a week ago, and it was a struggle to wait until the jam began. I'd done as much as I felt was fair within the rules, doing prototype main menu and player controllers, and I was excited to get into this. I woke up earlyish to begin work as soon as humanly possible. Still wasn't going to wake up at jam start @ 3am, but early enough.

So what was achieved:
Game renamed. I felt the new name suits it better
More work on the player controller
Firing guns & bullet physics
Explosions
Level 1 half complete
Pickups
Obstacles
Prototype hud
Game Over Screen
More work on the Main menu
Player preferences saving & loading
Tomorrow, the plan is:
Enemies. Including modeling, AI & pathing. Way behind schedule on these
More levels
Level transitions
Top score saving
Honestly, day 2 is ambitious.

The final day is for audio & polish. I'm going to need as much time for audio as possible.