Holy Duck! Hunt For the Golden Loaf
If it looks like a duck, swims like a duck, and quacks like a duck...
The evil Goose Lee has taken off with the Golden Loaf and your lady duck Suzie Quacktro! Now you, Duck Norris, are on a hunt to defeat him and his evil henchmen, recover the golden loaf, save your lady, and maybe rescue a few chicks along the way.
Begun as part of the 7DRL challenge, Holy Duck! Hunt For the Golden Loaf is a roguelike where you take control of Duck Norris on a hostage rescue mission to recover his precious french bread.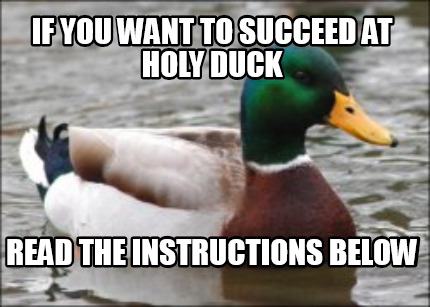 Use the arrow keys to move
Walk up to things and bite them
Or use your 'Q' Quack attack to stun them
Bread and soggy chips are highly nutritious. And delicious. Eat them all
Eat 'A' apples to recover health
Eat 'M' magic mushrooms to recover both health and stamina
Rescue chicks and eggs and turn them in to friendly Mumma Ducks to gain bonuses
And remember, not everything is what it's quacked up to be.
Credits
Holy Duck is solely the brainchild of me (Ben Wise) but it couldn't have been made without these assets:
2D Sprites come from (or are a modified form of) the amazing Time Fantasy series by Finalbossblues - http://timefantasy.net/
Text font is SF Toontime - https://www.fontsquirrel.com/fonts/sf-toontime
Logo font is Cartwheel - https://www.fontsquirrel.com/fonts/Cartwheel
Download
Click download now to get access to the following files:
Holy Duck! Win64.zip
23 MB